As a professional designer who is hired to design and  furnish an entire estate, top to bottom, draperies to dishes, I have to have a very wide variety of sources to be able to come up with that perfect item to fit that perfect location in that perfect home.  So I am always on the lookout for new and sustainable sources to add to my mental menu of great resources. After so many years in the industry, my mental menu is a very busy place.
There is a place that is very often filled with fabulous pieces at amazing prices, available immediately.  This place took me years and years to master, as it was initially intimidating.  I needed to know exactly what I wanted, be able to recognize the good deal, make sure my client would be happy with it (often sight unseen!), recognize if it was real or fake,  calculate what the price should be,  estimate what repairs might be required and make a very quick decision.  What obscure resource is this??
AUCTIONS!
Auctions are frequented primarily by dealers, designers and private collectors. All those great things in your favorite antique store?  Probably came primarily from auctions.   Local, national and international auctions are available to everyone today.  But unless you are an expert, do not buy that item in the Milan auction sight unseen!
As your blogger, slavishly dedicated to providing expertise in every area of interior design, I will periodically be bringing you information on special pieces that will be available and keep you informed of the upcoming auctions.  Over the course of small posts, you can learn to take advantage of this sustainable resource, too.
But first, a few rules to remember:
1.  Know the source.   The auctions I follow are with auction houses that have, over the years, been consistently reliable with their descriptions, authentications, and valuations.  There are many different houses out there.  Do not be fooled.  Check in to the process they use to determine value and do lots of research before you raise that paddle!
2. Don't be fooled.  Ask your private, trusted,  expert advisor to evaluate a piece for authentication, repairs required, etc so you know what you are buying. This could be your interior designer, antiques dealer, rug dealer for antique carpets, furniture repair expert, etc.
3.  Understand the terminology.  Attend auctions when you are not planning to bid to get a feel for how they work.
4.  Understand all the fees that will be levied on the piece.   Especially the "Hammer price".  That is the last price that is bid before the auctioneer says "sold".  That is NOT the price you will be paying.  Fees will be added for the "house", the expertise provided, taxes if applicable, storage if required, etc.  Know the terms and conditions.  If your bid is accepted, you are bound to those terms.
5.  Do your Homework.   Discover everything you can about the period, the artist, the production house, etc.  so that you really know what you are buying.
6.  Set your maximum Hammer Price and stick to it.  Sometimes the excitement of the auction gets to a buyer and they keep bidding, especially if they are trying to beat that annoying bidder up in front who already bought everything!
With all of that out of the way, I will bring you items from the auctions I follow so that you can follow them too.
The first sale of the year here in the United States for Bonhams & Butterfields (www.bonhams.com), our top local auction house, is the Sunset Estate Auction in Los Angeles.  This particular auction is for their least expensive items.  A couple of items worth considering are:
A sterling covered box in the form of an apple Tiffany & Co., London, 1991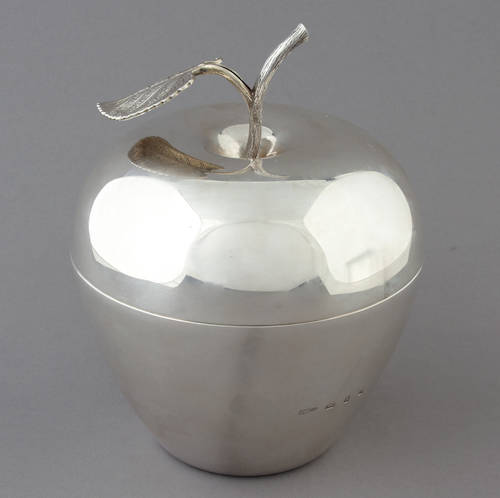 The expected Hammer price is listed at $600-800.  So if it sells for that, what would your price be?   Between $732-1176, plus tax, depending on the hammer price, taxes in the state purchased, expert's fee, etc.  My guess on what this will go for?  Around $550, all inclusive.  My guess is based on my accumulated knowledge from years of auction shopping, plus a sense of today's market.
But I could be wrong!  Most auctions are now international, with bidders online, on the phone, etc.  You never know who you are bidding against, because they are often not in the room.  Part of the fun of the auction is that you never know what it is going to go for.  When the bid is accepted, I often feel like I WON something for my client!  It is thrilling, because I KNOW I got a good deal and my client will think I am brilliant.
Check out these chairs: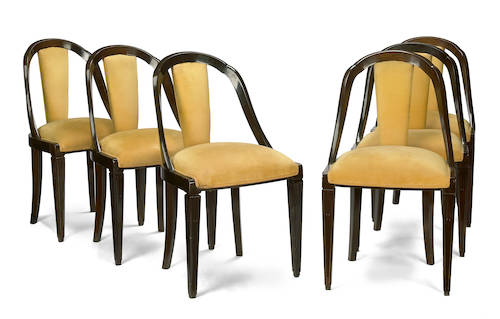 A set of six Art Deco mahogany and suede upholstered dining chairs
These look very stylish and the finish looks like it was good at one time.  If these were available new and perfect, the set would run about $9000 and up. But with a hammer price of $500-700 for all six, they probably are pretty beat up.  If they are really "Art Deco" they may be diminutive in scale.   If they are Art Deco-Style  from the recent past, they will be more of a size we are use to.  If you are planning to use these regularly, you definitely want to have your advisor sit in them and examine them.  They probably need a lot of repair.  On the other hand, they cost next t0 nothing here, so go ahead and buy them for your daughter's first apartment and have your carpenter slap some glue on them.  She will be thrilled and her friends will think she is very sophisticated. And you got a steal!
My favorite property in this auction is this pair of lamps: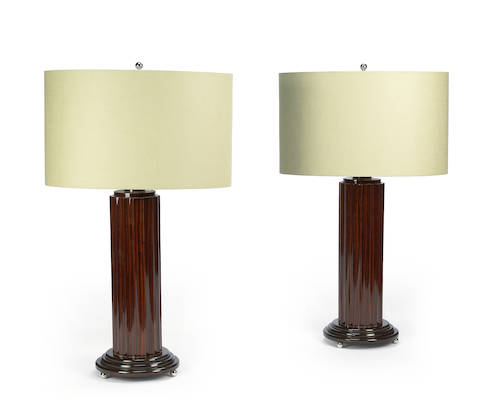 A pair of Art Deco Palisandre lamps: $1,500 – 2,000. 
Now these look interesting and like they are in good condition.  Palisandre wood was usually from Brazil rainforests, so isn't a good idea to specify today.  But finding it in a vintage piece, at a great price for a pair of 50" high lamps with shades  really is a good deal.  These would look great either as floor/reading lamps at the end of a sofa, of in a grand entry  table with high ceilings.  If we could find these new, they would run about $8500 for the pair. My guess on what these would cost you from your advisor?  About $1700.   Are you convinced about the value?
Since I read the catalogues regularly and they seem to arrive in the mail every week, I will be bringing you highlights of the auctions.  If you are able to make quick decisions and have an advisor that you can trust, you can get a tremendous value at auction.  Stayed tuned……
By